Iridium High is a high school in Miami, Florida. This is where students go to school.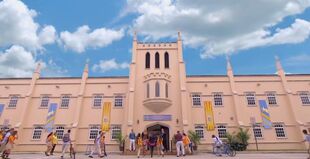 Current Students (Alphabetically By Last Name)
Heather B. (mentioned in Rebel Emma)
Nicky Feinsten (mentioned in Double Trouble)
Gigantor Joshua (first mentioned in The Big Chill and again as Nicky's ex in Double Trouble)
Former Iridium High Students (Alphabetically By Last Name)
Known Staff Members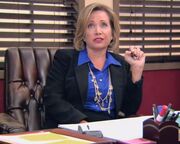 Lily - Former School Nurse (Season 1, 3–4)
Francisco Alonso - Current Principal (Season 2–4) and former Maths Teacher (Season 1)
Coach Julio- Former Swim Mentor/Coach (Season 1)
Mrs. Jones- Former History Teacher (Season 1–3) and PA (Season 4)
Agamemnon- Former Janitor (Season 2–4)
Desdemona- Former Lunch Lady (Season 2–4)
Miss Torres- Former Principal (Season 1 and 4)
Teams/Clubs/ School Groups
Appearance
Iridium High is a Spanish Colonial-style building with the school name and logo displayed on vinyl banners scattered around the front. Hallways and other common areas indoors are bright and airy, while classrooms are typical in appearance. The school colors are blue and orange.
Students are required to wear uniforms - orange polo shirts and khaki pleated skirts with blue stripes near the hem or khaki pants or skirts for the girls, while boys wear light blue polo shirts or buttondowns with striped ties and khaki pants or shorts. A bright blue blazer or cardigan with orange trim is optional for both boys and girls, and many students, girls especially, accessorize their uniforms heavily. (Mainly The Panthers)