Dia (D/aniel and M/ia) was the romantic/friendship pairing between Mia Black and Daniel Miller.
They are portrayed by Nick Merico and Elizabeth Elias.
Dia Moments/Friendship/Relationship History
Edit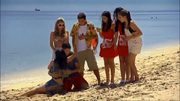 Mia brings Daniel his favorite cookies.
Mia asks about Emma.
Mia flirts with Daniel.
Mia called him "Slow Daniel"
They are seen play fighting by Emma which makes her jealous and a little hurt.
Mia shapeshifts into Andi so she could hang out with Daniel.
Mia shapeshifts into Emma so she can kiss with Daniel and make him evil with the spider that crawled from Mia to Daniel.
Daniel sang "Always You" to Mia onstage, when he wrote it for and sang it to Emma.
Daniel kisses Mia in front of everyone.
Daniel shows her around school, as she is new.
Daniel threatens Sebastian and makes his locker Mia's.
They sit at lunch together.
Daniel ditches detention to go to The Seven with Mia.
Mia texts Emma to meet them at The Seven, using Daniel's phone.
Daniel skips swim practice and detention to hang with Mia at the Seven.
Daniel tries to tell Mia about witches, but is interrupted by Emma.
It is revealed in this episode that Mia may like Daniel for real.
Daniel tells Mia about witches at lunch, but she plays dumb, even though she already knows.
Daniel comes over and sees Mia's photo collage on her wall, she calls her Wall of Revenge.
Mia explains her plan to him, and says he's going to help her.
Daniel asks if she's a witch-hunter cheerleader, and she says she's much more than that.
She demonstartes her powers by using them on Daniel, and finally tells her she's a kanay.
She thinks it's lame when she find out Emma's locker combination is Daniel's birthday.
She seemes unimpressed when Daniel tells her he's putting pudding in Emma's locker as a prank.
They find Katie snooping around in her basement.
They kiss at the lockers.
It is revealed that Daniel was faking and the spider seal is still on him; Mia covered it with makeup.
When she calls him a great actor, he calls her an evil mastermind and a great makeup artist.
Mia gives him a piece of a crystal, and says it will scramble a witch's spell.
Mia goes to Daniel's house after hearing he's sick.
Mia removes the spider seal off Daniel.
Daniel tells Emma that Mia saved him by taking it off.
Mia is upset that Daniel can't remember dating her.
She leaves him, a little hurt that he doesn't remember anything.
Daniel tries to run after her, but is stopped by Gigi.
Daniel goes to her house to apologize, but she thinks he is there to confront her.
He says he doesn't believe that Kanays are evil.
Daniel says Mia is his friend.
Mia hugs him.
Daniel stands up for Mia.
Mia, playing dumb, asks what's going on, and Daniel tells her, flipping out.
Daniel tells Katie Mia is here to help
Daniel thanks her, and they share a short look.
Daniel tells Emma that Mia helped rescue her and Maddie.
They are seen walking and flirting in the hall by Emma and Andi.
Mia tells Daniel he should grow his hair out, saying it's more "musician-y".
He says maybe, but Emma likes it short.
Mia asked if she's still mad for sticking up for me , and he says he's not sure, and it's been rough with them.
Mia again apologizes for the spider seal.
She takes his hand in her, and they both look at the bush, whch looked like it moved.
Daniel vents to her about how upset he is about how much Emma trusts Jax.
Mia suggests that he might be seeing Emma's true colors, and they're growing apart. Daniel agrees, but quickly takes it back.
Mia laughs when yogurt is thrown on him.
Mia goes to Daniel's house and tells him the truth about her family, and her plan for revenge.
Daniel goes to Mia's house after seeing she is gone and the T3 reveal she had a fight with Andi.
Daniel helps set Mia free while Diego sets Andi free.
Daniel asks what she is doing when she threatens everyone.
She tells him to stand behind her so she can get them out of here.
Daniel tries to convince her to let them go, but she says since they can't cast spells, this is her chance to attack.
When Jax cast her spell on her to send her to another land (although it didn't work because of the crystal) Daniel yelled "NO".
Mia says to Daniel, "They won't hurt me, huh?" after Diego throws a fireball at her.
They are seen in chemistry class, discussing last night.
Daniel says she didn't have to threaten everyone, but she said they were ganging up on her wand wanted to take her out.
Mia starts to fake cry, and Daniel leaves to get tissues.
Daniel tells Maddie and Diego that he ran into Mia and she seemed upset.
Daniel seems worried when he finds out Diego is having a duel with Mia.
Later, Daniel was about to talk to Mia about ending the duel with Diego when Jax transported into his house.
Daniel realized that Mia made him evil and that everything she said was a lie.
Mia kisses Daniel and when she did he did not pull away until he remember that she shapeshifted into Emma and gave him the spider seal in the first place.
Daniel didn't let go of Mia's hand until he remembered that she that she shapeshifted into Emma and gave him the spider seal in the first place.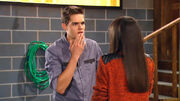 It appears in this alternate reality Daniel and Mia are dating, and run the animal sanctuary together with Daniel's family.
They both agree at first that they should go find Gigi, Katie, and Sophie alone.
They sit together by a boat.
They help Emma, Jax, Andi, Diego, and Maddie find the girls.
They smile at Jax and Emma when they see them hug.
They make dinner for the gang.
Daniel tastes the soup Mia made and tells everyone that it is ready.
Daniel agrees to go to Miami with Emma and the gang, in order to save Mia and his family.
Daniel comes and puts his hand on Mia's shoulder while informing everyone that breakfast is at 8.
Mia tells the groups if the need anything else, give them a shout, referring to her and Daniel.
Daniel is seen telling her that he's only leaving for a week, and he'll be home soon.
They hug goodbye as Daniel goes with the group back to Miami and Mia stays behind with his mother and siblings.
Mia visits Daniel and wants him to come home.
Daniel pretends to remember his other life in order to go home to The Everglades with Mia.
Daniel accidently says he's going to go call Mia, then corrects himself and replaces Mia's name with Maddie's.
Daniel asks Jax to tele-transport him so he could say goodbye to his family and Mia one last time.
Daniel visited Mia at her new school.
She told him she heard about Emma dumping him and think he wants to get with her because of it.
Daniel tries to tell her about their alternate life together.
Mia threatens him and tells him to leave, to which he agrees, but says he will make her remember what they had.
He vents about his "girl problems" with Mia to Diego as he vents about Maddie.
Mia finds Daniel at the Seven.
She says she's been thinking about if this alternate life she told him about could be possible, and asks him to tell her about it.
They are later seen at Daniel's house, still talking about the alternate life.
She says it sounds nice when Daniel tells her it was just him and her, best friend and a couple.
Daniel tells her she lived with her parents, and she is shocked that her parents were around in her alternate life.
The information is too much for her, so she leaves, which makes Daniel blame himself.
Daniel tells Diego he has Mia's address and encourages him to talk to Mia about finding more kanays.
he calls Mia to ask for her help to unfreeze Jessie
Daniel visits Mia to see how she's doing.
He apologizes for bringing up her parents the last time.
He promises to never bring it up again.
Daniel asks Mia to help stop Emma in her plan to turn back time.
Mia is surprised that Daniel asked Emma to send him back to his other life.
Mia refuses, telling him if there's a chance she'll see her parents again, she won't stand in her way, and neither should he.
Daniel hugs Mia right after he sees her and both decide to plan out the daily schedule together.
Daniel is back and happy with Mia in the Everglades.
The image gallery for Dia may be viewed here.
Let's Be Friends - Emily Osment
The One That Got Away - Katy Perry
Why Don't We Fall in Love - Amerie
Don't Forget - Demi Lovato
Dark Horse - Katy Perry
Rolling in the Deep - Adele
Sugar - Robin Schulz, Francesco Yates
All In My Head - Tori Kelly
Radar - Britney Spears
Just A Little Bit Of Your Heart - Ariana Grande
You Make Me Wanna - Usher
I'm Into You - Jennifer Lopez ft. Lil Wayne
Don't Cha - The Pussycat Dolls ft. Busta Rhymes
Pacify Her - Melanie Martinez
Because Of You - Ne-Yo
PILLOWTALK - Zayn
The Last Time - Taylor Swift ft. Gary Lightbody
Black Magic - Little Mix
Troublemaker - Olly Murs ft. Flo Rida
Every Time You Lie - Demi Lovato
All Hands On Deck - Tinashe
I Want You Back - Jackson 5
I Won't Give Up - Jason Mraz
Do You Remember - Jay Sean, Sean Paul, Lil Jon
Here We Go Again - Demi Lovato
Dark Side - Kelly Clarkson
Say Ok - Vanessa Hudgens
Wait On Me - Rixton
break up with your girlfriend, i'm bored - Ariana Grande