Daniela Nieves

Biographical
Nickname(s)

Dani

Gender

Female

Date of Birth

July 4, 1997

Eye Color

Brown

Hair Color

Light Brown

Occupation

Actress/Singer

Role
Daniela Nieves
is an actress from Columbia and is best known for her former main role as
Andi Cruz
on
Every Witch Way and her former protagonist role on the spin off show, W.I.T.s Academy; which only made one season and got cancelled.
Biography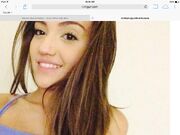 Daniela Nieves (born July 4, 1997) is a Venezuelan actress, best known for playing Andrea "Andi" Cruz on the Nickelodeon series Every Witch Way and WITs Academy (the spin off of Every Witch Way). Nieves's other appearances include Una Maid en Manhattan, El Rostro de Analía and La viuda de Blanco. She moved from Venezuela to United States at 4 months old.
Filmography 
Gallery
The image gallery for Daniela Nieves may be viewed here.
Trivia
She is reffered to by many of her cast mates as the "jokester" or the funniest person on set.
She is best friends with Paola Andino, Denisea Wilson and Tyler Alvarez in real life. That is Emma, Katie and Diego.
Her star sign is cancer.
She continued as the lead role in the spin off show W.I.T.s Academy.
In the series, her character (Andi Cruz), has frizzy hair with a purple streak in her hair in Season 1. In Season 2, she has straight brown hair with a purple streak, continuing throughout the two other seasons of the show. When she continues her role as Andi; as the protagonist, she has light hair on the sequel show, W.I.T.s Academy.
Daniela was only one of three cast members who returned to W.I.T.s Academy, as a main cast member.