Daniel Esquivel

General
Full Name

Daniel Alejandro Esquivel

Nickname(s)

N/A

Gender

Male

Birthdate

Unknown

Occupation

Student/The Sharks (Swimmer)

School

Escolarium
School of Witches

Relationships
Siblings
Romances

Matilda Roman (Ex–Girlfriendd)
Grachi Alonso (Girlfriend)


Appearance
Eye Color

Brown

Hair Color

Brown

Production
Season(s)

1, 2, 3

First Seen

Grachi

Last Seen

N/A

Portrayed By

Andres Mercado

Daniel Alejandro Esquivel was one of the main characters of Grachi played by Andrés Mercado. He was the captain of the Sharks, the school swim team. He is very athletic and strong, and kind of a gentleman. When Grachi, first saw him, she fell in love with him, promising they would never be separated. He's the Latin counterpart of Daniel Miller from Every Witch Way.
Personality
Edit
At the beginning of the series he was Matilda's boyfriend, but ended their relationship and went out with Grachi, the girl he's in love with.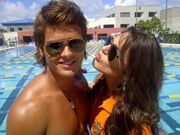 Daniel might not like the magic or that Grachi has magical powers, as the magical powers of Grachi have brought him both many problems (though he has managed to accept his girlfriend the way she is), besides hating that witches as Mia use magic to make life easier. His best friend is his cousin Chema. By Leo's experiment they get the powers of Matilda and Daniel personally doesn't want them So thanks to another experiment, , Matilda gets her powers. He just loves and thinks Grachi surrender against Tony and Leo in the second season in the alternative world, he also becomes a love child skateboarder.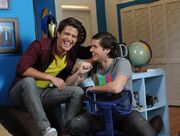 A Daniel comes from another other dimension to this when grachi gets out the other dimension . In the last episode of the second season he helps Grachi, Matilda, Chema, Mecha, Diego and Tony fight against Athena, Leo and Mia.